Use Fauxmegle to fulfill all your clout dreams!
Record your screen to prove you talked to a celeb ;)
Here's how it works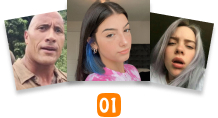 Pick a celeb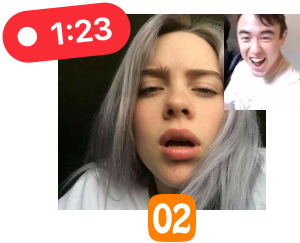 Record a fake convo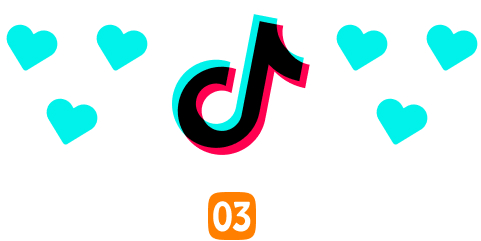 Post it to TikTok for clout
this clout shit is funny

In the universe of the modern internet, the shitty metaverse in which we live our lives, clout is the equivalent of a natural resource. It is both commodity and currency. By this same token, celebrities function like mines or natural mineral deposits: they are sources of clout that can be tapped via proximity. As a guy* on the internet once said: move content from one platform to another; get famous. Celebrity encounters are pseudo-chance occurrences that can (and must!) be leveraged. When we encounter a celebrity we are compelled to post video or screenshots of the encounter far and wide, to shout at the top of our lungs that fame has rubbed off on us, and by our action to make it in some small way true. The labor of clout production is the process of finding content in the wild. Omegle is Pokemon Snap, where Pikachu is an influencer, and the Tall Grass is a waving sea of genitalia.
A MILLION YEARS AGO PEOPLE LAMENTED THAT REAL LIFE HAD BECOME A PERFORMANCE DONE PURELY AS THE GROUNDWORK FOR THE ONLINE REPRESENTATION OF THAT LIFE. TODAY, WITH OUR BRAINS GROWN LARGE ENOUGH TO SIT ON, OUR ACTIONS ONLINE ARE ALSO A PERFORMANCE DONE FOR THE PURPOSE OF ONLINE RE-PRESENTATION. AS A PARTING THOUGHT, LET US MARVEL AT THE LASTING APPEAL OF JANKY WEB PLATFORMS. HOW DID OMEGLE SURVIVE TO FIND NEW LIFE WITH A NEW GENERATION, WHEN CHAT ROULETTE AND SO MANY OTHER RANDOM CONNECTION PLATFORMS OF SIMILAR PREMISE FELL BY THE WAYSIDE? CLEARLY THIS IS NOT THE PRODUCT OF FINESSE OR UNIQUE CAPABILITY. THE SITE WAS CREATED BY A TEENAGER IN THE LATE AUGHTS, AND LOOKS AND FEELS EXACTLY AS IT ALWAYS DID: LIKE A WEBSITE CREATED BY A TEENAGER IN THE LATE AUGHTS. AND YET HERE IT IS, THE WILDS IN WHICH TIKTOK CONTENT IS BORN. FAUXMEGLE IS MSCHF DROP #46. EVERY DROP IS DIFFERENT, AND WE NEVER DO THE SAME THING TWICE. DOWNLOAD THE MSCHF APP TO HEAR ABOUT FUTURE DROPS. Terms & Conditions .
*RYDER RIPPS.